Refer this site to your friends
I will be pleased to listen from you.
Please Give you Details.

Note: I'm receiving unsolicited junk entries on my guest book and hence disabling the same for the time being. Please follow the link and email to contact me. Sorry for inconvenience. The submit link is disabled... www.shrinidhi.20m.com/cgi-bin/emailmeThank you.





-----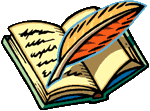 My guestbook
Where you can directly tell me what you feel..