---
Welcome to my Public Profile and CV"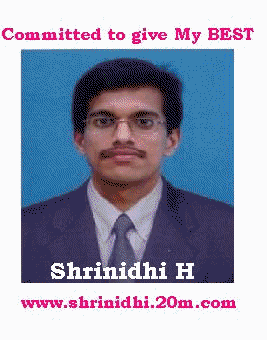 Click on the link you choose or scroll down.
Last Update: 4th December 2005
#What's New? Check updates
#Basic Information
#Educational Qualification
#Work Experience
#Computer Skills
#Additional Qualification
#Projects Undertaken
#What All I can Undertake?
#Organizations I'm associated with:
#Positions held earlier:
#Hobbies
#Languages Known
#Contact Information

---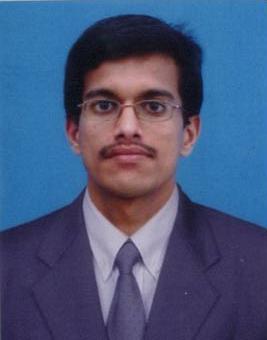 Basic Information
Name : SHRINIDHI H (As in class 10 Marks Card)
Full Name: SHRINIDHI HANDE

Age: 23 Years Sex: Male , Unmarried
Working as Software Enginner Trainee at SCSL, Channai
Residing at Chennai, India,
Go toTop
---
Educational Qualification
Final Year B.E. Mechanical @ Dayanad Sagar College of Engg. Bangalore,
Class 10-CBSE-84%,Year 1999
Class 12-CBSE-72.8%, Year 2001..More on JNVs

Undertook certificate course on Mechatronics @ M.S.Ramaiah School of Advanced studies.
and get selected as "The Best Outgoing Student from mechatronics centre"
Full Details

Go toTop
---
Working as Software Engineer Trainee with SCSL since July 2005

---
Computer Skills
Comprehensive 3 month pre employement training from Satyam Computer Services Limited (My present employer) covering all aspects like RDBMS,Oracle, and specializing in Java Development skills and XML
OS: Windows 98, windows 2000 and Windows XP
Applications: Microsoft Office XP professional

Tools: Rational Rose, Eclipse,
Design Packages: DS Catia V5R8 (Part Design only), NI Lab VIEW 6.1 (excluding hardware interfacing), AutoCAD 2000,
•Certificate course on hardware and maintenance from WinTech computers.

Elementary knowledge on: Ansys 6.1(Learning), Micro Controllers 8051 (keil ėV 2 IDE), Mat Lab 6.5, ADAMS View version 11 ,
Pro E 2001 (learning) , Macro media flash 5 and dream weaver 4, Adobe Photoshop 7, DS solid works.

---
Additional Qualifications
1.Certificate course on Photography & Videography.
2.Have valid Driving Licence for 2 and 4 wheelers and HTV
3.Have taken 1 month IRDA training meant for insurance agents. (Didn't take up agency due to academic reasons.
4.Some of my writings are published in several English and Kannada jounals-Vijaya Karnataka, Sudha, Silicon-times, etc.(Check out My Name In Media).
5.Have participated in a television programme of ETV kannada channel.
6.DId some Freelancing for Vijay Times-Bangalore based English daily.
Go toTop
---
Projects Undertaken
1.Water control Retort system
Lab View simulation at CFTRI Mysore, February 2004:
Worked under the guidance of Mr. M Kumar, Scientist E1, CFTRI Mysore to develop a simulation of water control retort system for food preservation.
This work was undertaken to spend my holidays meaningfully. Duration 20 Days, Team Size: 1

2.Computerized Analysis using Finite Element Methods VTU 6th Semester Mini project, team size 4, duration 4 months
Role: Testing, Debugging and documentation.
Description: Software package built using C++ to solve FEM problems related to 1 Dimensional structural elements.

VTU 8th sem project:
Analysis and fabrication of composite rotor disc(-tentative title)
Team size 3, at NAL bangalore.

Go toTop
---
---
What all I can undertake?

J2EE Developments, Technical Writing-Proposals and Documentation Tasks meant for a typical mechanical engineer,
1.Can undertake any kind of Photography and videography.


2.Good in creative writing and journalistic works.(Check out My works In Media). Can undertake any kind of writing: Content development/editing, article writing,media reporting, reviews etc. (Both in English and Kannada)

Go toTop
---
Organizations I'm associated with:
1. Silicon Times-A Bangalore based IT Magazine, as Member, advisory board
2. Bangalore South News: Freelance Reporter
3. Bhoomi Theatre-Technical Designer
4. Did some Freelancing for Vijay Times: Bangalore based English daily.
Go toTop
---
Positions Held Earlier
1. One of the deligates for an ETV Kannada programme. July 2002
2. Member, Editorial Board-Keerthi-Vol 2-JNVC School Magazine. March 2000
3. Manger, Students Bank, JNVC Udupi dist. For about 2 years.
Go toTop
---
Hobbies:
1.Chess.
2.Writing-Articles, story, review etc.
3.Reading-Fiction, magazines-technical, general and GK, Newspapers, etc(Check out My Name In Media).
4.Badminton
5.Music-Indipop, classic and film hits-melodious.
6.Surfing the Net.
Go toTop
---
Languages Known:
Hindi, English, kannada.(Read, write and speak)
Learning-German and Tamil
Go toTop
---
Contact Informations:
3A, Satyam Comp, Tidel Park, Taramani, Chennai 600113
Email: enidhi@gmail.com Ph: 9884299012
Email me now
Go toTop

---
What's New?Resume Updates

December 4 2005 Updates:

Work experience Added
Presently Operating From Tidel Park, Chennai.
Contact Numbber: 9884299012

May 13 updates:
Aggregate marks updated after 7th semester results (69.3%)
A new extra curricular activity-Development Co ordinator, www.jnvalumni.com incorporated
My association with Bangalore South News ended and reference to the same are removed.

Feb 20 2005 Update;
8th sem project tentative title included
semester yupgraded to 8th sem
December 24 update:
Our college is now ISO 9001 certified
gif image introduced in this page
8th semester electives opted

December Update: No. of pages of resume reduced to 3 from 4
* Link to suitable location in my website introduced to give full info on items mentioned in my CV
Change in my email ID (enidhi@gmail.com) was incorporated.
Go toTop
---
My ETYE Course at MSRSAS
M.S.Ramaiah School of Advanced studies (MSRSAS)www.msrsas.org, is a part of MS Ramaiah Group of Institutions, Bangalore.
I underwent a certificate course named ETYE (Encourage Talented Young Engineers) on Mechatronics.


Mechatronics is a term coined from two engineering disciplines- Mechanics and Electronics. Since most of the mechanical devices are made smarter these days with the assistance of computers and electronic controls, the knowledge of Mechatronics is very important for every Mechanical engineer.




The course exposed me to a wide range of emerging technologies and softwares like DS Catia, NI Labview, Adams VIEW etc and I could get hands on experience on them. Further my electronics knowledge was also enriched.
Also, at the end of the course, I was honored with The Best Outgoing Student Award from Mechatronics Centre, considering my excellent performance in assignments and other parameters.



---
Jawahar Navodaya Vidyalayas
Jawahar Navodaya Vidyalayas (JNV) www.navodaya.nic.in


are setup by the central govt under the Late president Mr.Rajiv Gandhi. The institution is run by Dept of Education, Ministry of HRD Govt of India. There's one JNV in every district and the institution aims to provide free quality co education to deserving young rural students.




I studied from class 6 to class 12 at one such JNV, located at Chara, Hebri, Udupi district, Karnataka. Udupi district is known worldwide of 1.Udupi Hotels and 2. Quality Education. When I was in 9th standard, I also went to JNV Pandhana, Khandwa Dist, Madhya Pradesh, under the migration scheme to promote national integration. I also held positions like member of editorial board for school magazine etc.
---
Home Page*My resume-pdf format* Call me Now! 9845553799
Thanks for your Time. Please give a feed back: Click Here
Go toTop
---